Community Stage
Tonatiuh Danza Azteca – 11:00 AM
Danza Azteca Tonatiuh is committed to promote and raise cultural awareness. We are not a group of dancers, but rather a community that integrates dance as part of our cultural spirituality.We are pleased to share our culture as a way to remember and honor the traditions of our ancestors, thus ensuring the preservation of our indigenous roots.
Ballet Bravo – 11:30 AM 
Ballet Bravo's director encourages freedom of expression which helps students develop confidence, cultural and self pride. With only a few years of their existence they have accomplished plenty of their goals, which include educating their communities through dance presentations, taking part in films, and also keeping in touch with cultural events in and around Angelino communities. They are all very excited to present some Indigenous Danazas, a mixture of Folklorico, and a touch of evolution to this year's Downey Day of the Dead. Instructor Jorge Rivas at Arte Flamenco, Ramona Hall Community Center, and LAUSD-Gifted and Talented Programs.
"Fly away, but always come home."
Art Dance Academy – 12:30 PM
School of Ballet and Dance "Art Dance Academy" has a profile dedicated to vocational training of students from an early age, meets comprehensive educational program that brings together several disciplines, including Ballet, Repertoire, Contemporary Dance, Jazz, Lyrical, Caribbean rhythms and Hip-Hop among others. we also provide physical training for dancers, Gymnastics, Acrobatics and elasticity and Turn and Jump.
Tlalliyolo – 1:00 PM
Resurrección Mexican Folk – 1:30 PM
Since its inception in the year 1961, Resurrección Mexican Folk (formerly known as Ballet Folkórico Resurrección) has grown to over 40 dancers ranging in age from 4 to 21. This youth dance company developed an interest by its Artistic Director, Rafael Valpuesta , to provide a different style of Mexican folk dance to the children and youth of his community. Being a dancer himself in various professional dance companies throughout Los Angeles, Mr. Valpuesta recognized that Mexican folk dance was evolving to incorporate other dance disciplines involving a more theatrical style. Mr. Valpuesta has incorporated intensive ballet training into regular rehearsals. This has marked the definite style and direction that Resurrección Mexican Folk is known for.
Mexico Moderno Dance Theater – 2:00 PM
Mexico Moderno Dance Theater employs the idea of representing Mexican folklore, culture and tradition, while at the same time exploring the unique art form of dance theater. MMDT's commitment is to education and entertain by portraying works of fusion of modern and folkloric dance styles.
MMDT strives to share the joy and beauty of the many regions and colors of Mexico and the Americas as they relate to Hispanic Culture with audiences in performing arts and educational settings.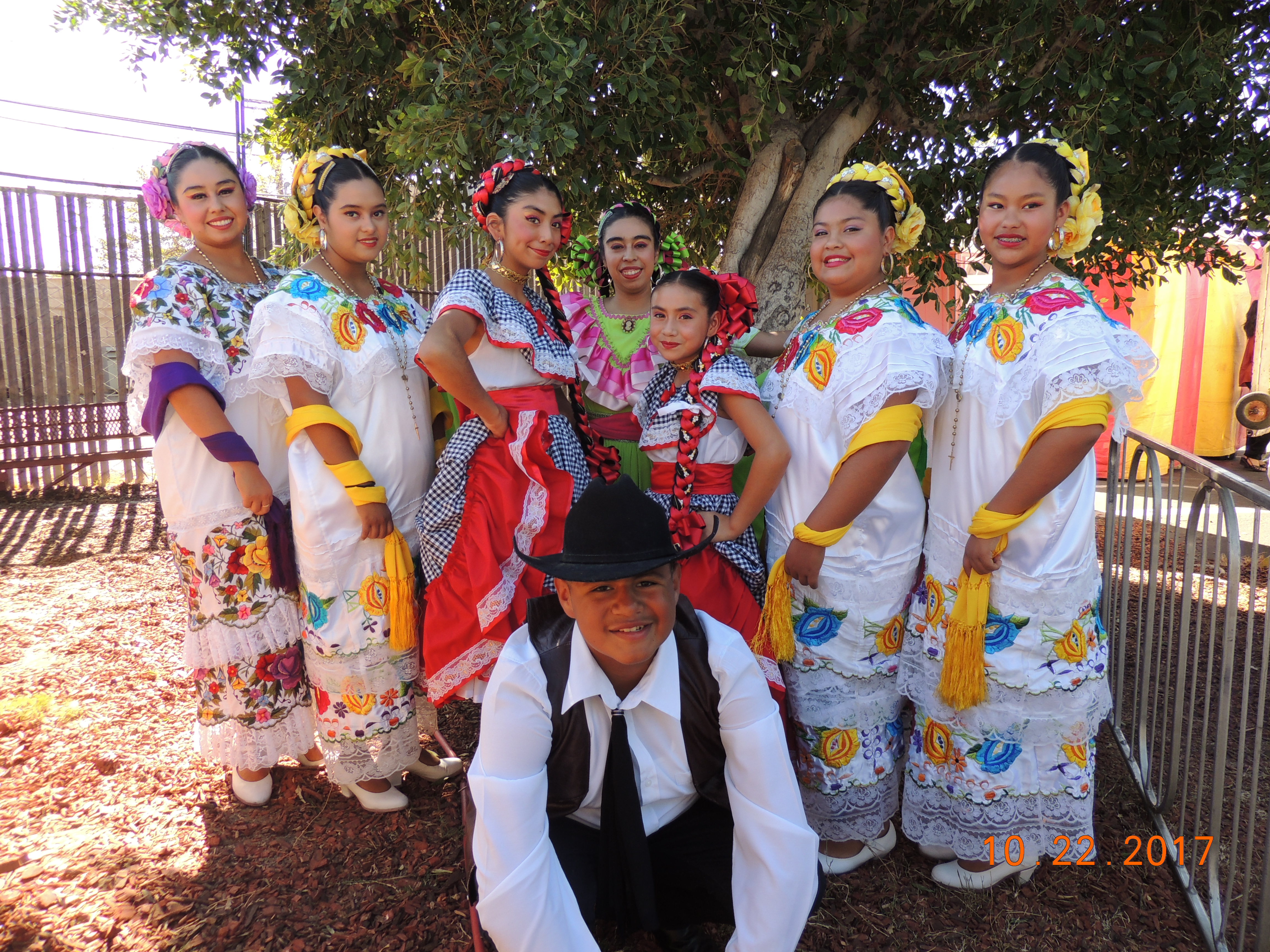 Ballet Folklorico Arcoiris – 2:30 PM
Ballet Folklorico Arcoiris is a group started by two sisters Sandra and Erika Cardoza on March 6, 2011. Their passion for Mexican Folklorico Dance has been part of their lives for many years that they wanted to share their knowledge with the younger generations. The group has had the opportunity of performing in various events around the community such as church festivals, Relay for Life events, senior centers, and recently at Disney California Adventure. Their purpose is to educate, inform, and teach children at a young age about the importance of the dances, traditions, and culture each region of Mexico has to offer. Sharing our knowledge with others throughout our shows helps us keep the culture alive and for many generations to come.
Grupo Folklorico Desafio – 3:00 PM
Mixteco Juvenil – 3:30 PM
Grandeza Mexicana Dance Academy – 4:00 PM
Grandeza Mexicana Folk Ballet Company is a non-profit performing arts organization founded by Jose Vences in September 2003 with currently more than 40 dancers.  The company was formed to advance the field of Mexican folk ballet and to enhance the public's appreciation for the diversity and depth of Mexican culture. Backed by careful research, Grandeza Mexicana's work is committed to preserving the traditions and customs of Mexico's historic past and promising present.
Ballet Folklorico Amor de Mexico – 4:30 PM
Paso de Oro Steps of Gold – 5:00 PM
Steps of Gold Danza Latina teams showcase Latin cultural dances such as Salsa, Cha-cha, Merengue, Bachata, "Family friendly" Brazilian Samba and Urban Latin Hip hop.  Under the direction of Alejandro Rey and Erica Beuster, the award winning Steps of Gold and Latin Gold teams have been performing for about 10 years with dancers ranging from ages 4 years to adult. 
Steps of Gold /Paso de Oro's numerous award winning performances proves that we have what it takes bring out the best dancer in any student. Our Studio recently returned from an international dance competition in Las Vegas  with 22 awards in Ballet Folklorico, Brazilian Samba, Flamenco, Lyrical, Bachata, Cumbia and Salsa.Our students come from Orange County and the Greater Los Angeles Area, including Whittier, South Whittier, Pico Rivera, Santa Fe Springs, Hacienda Heights, La Mirada, La Habra, Avocado Heights, Montebello, South El Monte, La Puente, Cerritos, Norwalk, El Monte, West Puente Valley, Pomona and Downey, California.
Steps of Gold/Paso de Oro's repertoire is centered on the regional dances of Mexico and Latin Jazz ranging from traditional to contemporary dances. The Studio recently returned from an international dance competition in Las Vegas  with 22 awards in Ballet Folklorico, Brazilian Samba, Flamenco, Lyrical, Bachata, Cumbia and Salsa.  Previous audiences have included the Los Angeles Lakers, Los Angeles Sparks, Viva Los Dodgers, Bowers Museum, SOKA University, Historic Mission Inn in Riverside and Disney's California Adventure to name a few.
Spotlight Dance Studio – 5:30 PM
Paramount Dance Academy – 6:00 PM
ZaZa Dancers – 6:30 PM
Th e ZaZa Dancers are a local troupe based in Downey California and led under the direction of Raquel Yassa.  They specialize in Egyptian cabaret and perform regularly throughout the year at different events in Southern California, always striving to bring joy to their audience.  The ZaZa dancers are a diverse group of women who love to share their talent and the art of bellydance with all.
Toby Sandoval Artistic Development Program – 7:00 PM
*Times and Performances are subject to change